G. D. BECKETT - Flock 820                              
49 Larcombs Rd,                                                          
R.D.8,
Christchurch 7678
Phone 03 319 8622
Cell (021) 160 1080
EMAIL  grantanddi@amuri.net
Website: www.phoebestud.co.nz

We pride ourselves on producing high scanning, mid sized, correct sheep that will last and do the job for you the commercial farmer. Ewes are made to work hard over the year with little pampering,ram hoggets are given as much as is available to allow them to reach their full potential, ewe hoggets are mated.
I like to leave scanning until mid to late April as this generally allows them to be on the up if it has been dry.I don't beleive doing scanning any earlier is of any benefit at all, yes some may show up as doing better in dry but generally all I feel scanning under stress does is distort readings.
Days to kill is the number one priority to most farmers,it should be noted that this is where the Suffolk excells. Over the last few years the breed has dominated the Central Progeny Test results for weaning weight BVs, in fact this last year the top ram and 5 of the top 7 rams were SUFFOLKS!!!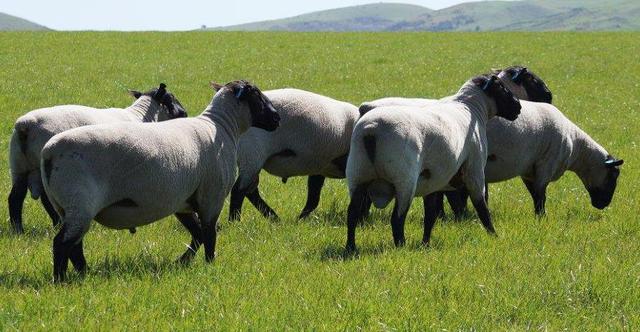 Our lastest Suffolk stud sire.
A home bred ram by Taronga 14/11.
I rate this ram Phoebe59/13 as being right up there with the best I have bred, he has great width and muscling in behind, stands on good legs, has great colour and stands there and says "Look at Me!!!". I cannot wait to see his lambs arrive!!
To me this is the perfect ram in todays market.