N.L. & G.M. CARR - Flock 336
Pine View
395 BarnswoodRoad,
No. 5 R.D.,
ASHBURTON 7775
PHONE (03) 303 6134
Cell (0274) 701 068
EMAIL - nmcarr@farmside.co.nz
We started our stud in 1976 at Mayfield, inland from Ashburton. 
Our aim is to produce high yielding, fast maturing, heavier weight lambs.
Our main emphasis is to produce stock with basic structural soundness, using good genetics.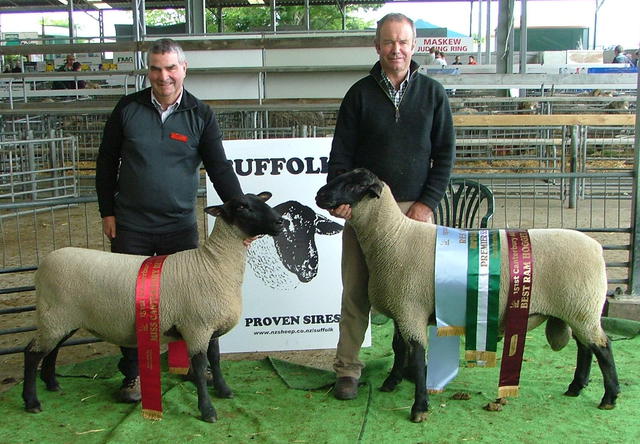 Ewe and Ram hogget sired by Omagh 225 / 10.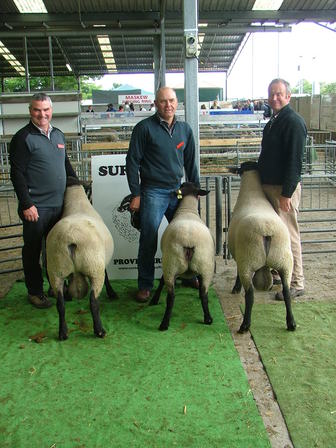 We had success at Christchurch show winning the commercial Suffolk ram hogget pairs class, 4 times and runner up twice, in the 6 years the class has been running.  Omagh 225 / 10 was Champion Suffolk at the Canterbury A&P show (Christchurch) in 2011.At the 2013 Canterbury A&P Show he was the sire of "Miss Canterbury" best meat and wool ewe hogget and also the Best meat breed Ram Hogget.
Photo to Right, Left to right, Norm Carr holding Mornish Ram Hogget, Peter Greenwood holding Omagh Ewe Hogget and Guy Abbott holding Mornish ram Hogget.  All three sired by Omagh 225 /10.