TOKA SUFFOLK STUD.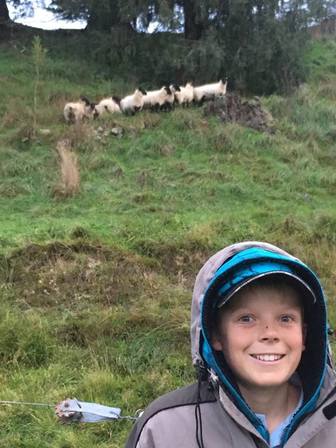 Mac Reynolds- Flock no 1031  
4679 Motueka Valley Highway
RD 2
Nelson. 7096 
Phone. 03 522 4126
Mobile   021 548 7781
Email. janet@zeaberry.co.nz
Toka Suffolk Stud was first established in the late 1960's by Bob and Frances Reynolds this continued until Bob's passing in 1996.
It was established again this year (2018) by Mac Reynolds, Bob and Frances grandson.
The stud was started with 10 ewe lambs from Tawhai Suffolk Stud, Penni Loffhagen and Rocci Scott, in March 2017 and then 2 Ewe lambs and a Ram lamb in April 2018.
Mac had his first lambing this year.
Mac runs his stud in conjunction with 400 commercial ewes with the guidance of his parents Robbie Reynolds and Janet Mclennan
Mac is 12 and has always spent any spare moment on the farm. He is loves all stock work.
He has a focus of breeding sound and hardy sheep.